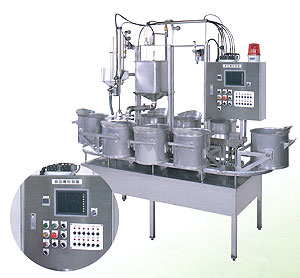 Touch panel screen for easy setting.

Each and every butch of soymilk is optimally curded.
@(Soymilk temperature adjustment,Soymilk weighing,Coagulant weighing)


The user can adjust the timing to add the coagulant and the agitation level.


The curd is broken before it is fed into a forming box.


You can also pre-boil thin tofu before deep frying them.


The system is equipped with air cylinders and air valves to eliminate trouble caused by water or humid conditions.


Buckets are easy to detach and clean.